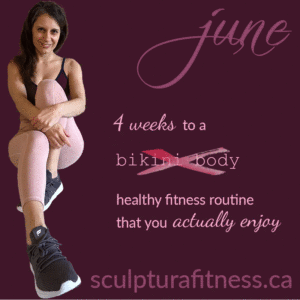 If you're anything like me, you're already tired of the "bikini body" ads flying around. Advertising that focuses on making women feel bad about their bodies and see exercise as either punishment or a way to look better is the reason I started my business a decade ago.
If you want a bikini body, put on a bikini. Done.
If you're looking for a healthy fitness routine you actually enjoy, that's a different story. For that, keep reading 🙂
I have degrees in Kinesiology (exercise science) and Music (conducting), and I am incredibly lucky that I get to work in not one but two fields I am passionate about. People tell me I'm exceptionally kind and a good listener. I deeply believe that fitness should be joyful, and that's how I approach Sculptura.
Sculptura Fitness is a tiny online fitness studio that holds interactive group classes a few times a week. I started Sculptura in 2010, in Halifax NS. Sculptura is a labour of love, and I do everything myself. I love the personal connection I have with my Sculpettes. The goal of Sculptura is to allow a lifestyle transformation that allows ladies to enjoy their exercise routine, and look forward to it for its own sake. There is no long-term commitment required to attend classes, but our members tend to stay for years.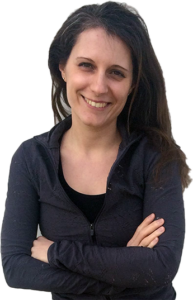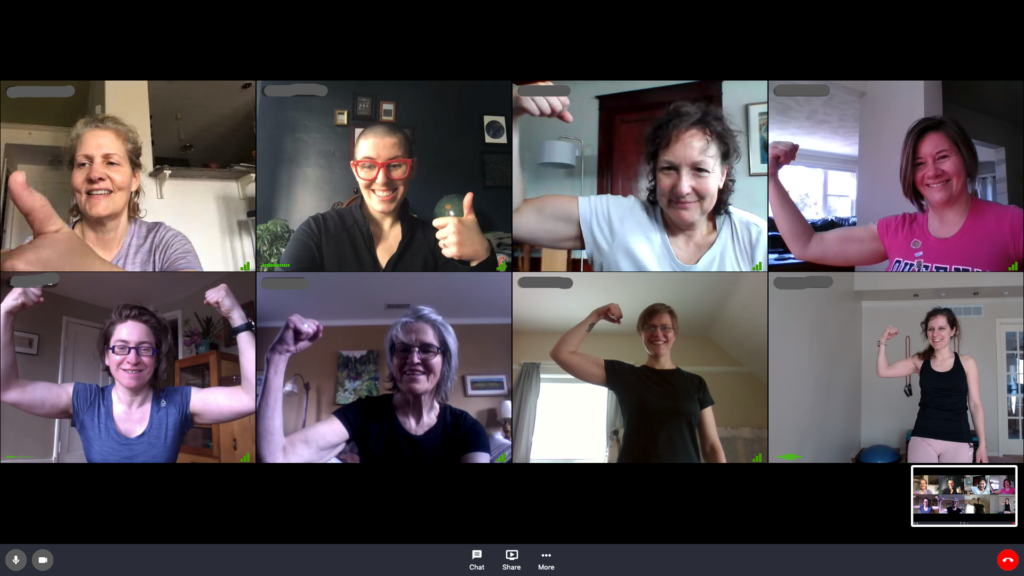 January class schedule: Jan 3-29
TIME ZONE: All times are listed in Atlantic (Eastern + 1hr). So the Tuesday evening class is at 6pm EDT.
Monday
7pm Pilates Flow (40 min)
Thursday
7pm Coreblast (40min)
$15/class
Or session pass:
3 classes per week: 
$159 (save 12%!)
4 classes per week:
$199 (save 33%!)
*if your income has been affected by covid and you want to join, just send me an email and we'll figure something out.*
A mat-based torture session for your core, including both deep abdominal work and high cardio core exercises. Be prepared to laugh, swear… and swear whenever you laugh the next day 😉
Combining strength training with a cardiovascular workout, this class uses weighted exercises for those who have a sandbag, kettlebells or free weights at home. Bodyweight variations are always provided. The class runs under an hour, including a relaxing flexibility cool-down.
This class combines strength training, cardiovascular training and Pilates to give you a focused workout with postural awareness, core strength and stability, and intense strength and cardio interval training. The goal is to keep challenging your body in a new way every time, so you are always increasing muscle tone, strength and flexibility. If you have weights or enjoy handling a sack of potatoes, this class often has advanced options for increased resistance (not required).
A 40 minute mat-based class based on the Pilates principles of deep muscle strength, flexibility, and postural awareness. Each movement flows into the next for a seamless workout.
are you a sculptura insider?
(Are you signed up to receive my emails?)
Add your name to the sign-up sheet that was emailed to you.
Email me and I'll set you up with our secret link to join the classes.
Pay via E-transfer.
Frolic.
Sign up to become a Sculptura insider below! You'll even get free weekly workout videos.
Follow steps 1-4 under the "yes" section, cause now "yer a Sculpette, Harry!"
fitness can and should be joyful. don't let anyone tell you otherwise.
Keep laughing, keep moving, and keep healthy.
xo,